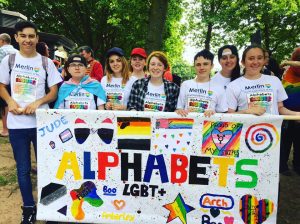 We manage and deliver five specialist LGBTQ youth services in Kingswood, Patchway and Yate in South Gloucestershire, as well as projects in Glastonbury (Somerset) and Swindon.
You can watch a film all about Alphabets LGBTQ youth project on our YouTube Channel.
Young people at Alphabets LGBTQ have made their own short film and they have designed their own website (under development).
Our LGBTQ youth projects are open to anyone Lesbian, Gay, Bisexual, Trans or Questioning (LGBTQ) between the ages of 13 and 19. Please use the Contact page to find out more about our youth services.