We have free wellbeing workshops available for adult LGBTQ+ people registered with GP's in South Gloucestershire. This is part of the One You South Gloucestershire service led by Southern Brooks Community Partnerships and South Gloucestershire Council.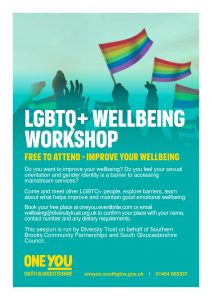 Our workshops will look at your current wellbeing needs and set scalable goals for improving this.
We'll see if local services meet your needs and what's missing in the community. You'll also explore other services, websites and apps, which may help your health and wellbeing.
The workshops are fun, as some people learn by watching, reading, writing, drawing, hearing and / or doing. Therefore, we created a highly practical workshop, so you have the tools to keep improving your health and wellbeing.
Please send us your contact details if you are interested, so we can alert you to workshops as they appear during the year.
Email: wellbeing@diversitytrust.org.uk
Eventbrite: https://www.eventbrite.co.uk/o/one-you-south-gloucestershire-19919302859