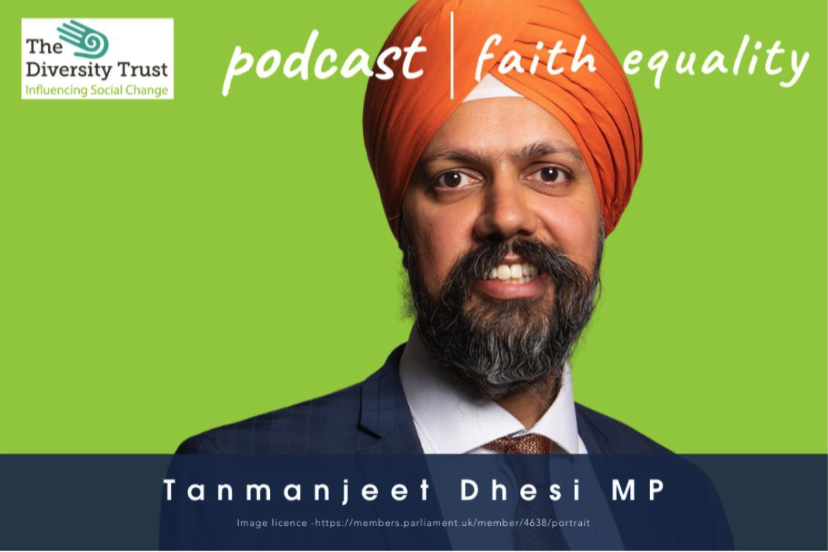 Listen to the full podcast interview here…
The Diversity Trust #5 [The Diversity Trust Podcast] Tanmanjeet Dhesi – Faith Activist
Listen to a snippet here…
[#5 Soundbite 1] Tanmanjeet Dhesi MP – Words Have Consequences
"… when individuals in places of prominence, whether that is in public life, whether that's in politics, whether that's on media, Russell, with the likes of yourselves, or whether that's in community activism, those individuals have a platform. So, when they say something, it's not like the average Joe on the street saying something. It is a person, especially someone in a position of responsibility, as a Prime Minister or as a Member of Parliament, you've got to be very, very careful in the words that you use, because words have consequences for people in their lives."
Listen to a snippet here…
[#5 Soundbite 2] Tanmanjeet Dhesi MP – Showing Solidarity
"Just because it's a woman doesn't mean that men can't stand up for them. Just because it's a Muslim person being affected doesn't mean that non-Muslims can't stand up for those individuals. Likewise, I think if you see somebody from an LGBT background being discriminated against, it's not just people within the LGBT+ community that should be making a stand. It is incumbent on all of us. If we see something happening, whether that's on the tube, whether that's on the trains, on the buses, or just while we're walking along the street. I think it is very, very important that we show solidarity with others because, when it comes to our turn, if we don't stand up for others, nobody will be standing up for us."
Listen to a snippet here…
[#5 Soundbite 3] Tanmanjeet Dhesi MP – Endorsement of the Diversity Trust
"…please do keep up the good work. And I hope that the Diversity Trust itself goes on from strength to strength as you look to unite people."
---
Tanmanjeet
Dhesi
Tanmanjeet Singh Dhesi was elected as the MP for Slough, winning in the 2017 General Election with a 17,000 majority and later re-elected in 2019, thereby becoming the first ever turban-wearing Sikh in any European Parliament. He was the Parliamentary Private Secretary for Jeremy Corbyn.
Born in Berkshire, having spent his formative years in Slough, Tanmanjeet received most of his primary education in the Punjab, India, before returning to the UK when he was nine years old. He studied Mathematics with Management at University College London, MSc Applied Statistics at Oxford University, before an MPhil at Cambridge in South Asian history and its connections with Great Britain.
After his studies, Tanmanjeet worked in construction and even ran his own small company in Scotland. In 2007, he was elected as a councillor in Gravesham, Kent, where he subsequently became Mayor. During this time he became a Cabinet Member, Constituency Party Chairman and had many other voluntary roles.
In 2019, Tanmanjeet drew applause in the Commons after he criticised alleged Islamophobic comments by the Prime Minister (Boris Johnson), which compared Muslim women wearing the burqa to "letterboxes" and "bank robbers" and which have been linked to the increase in anti-Muslim hate crime. He also called for there to be an investigation into Islamophobic hate speech within the Conservative Party.
Referred to as the 'Sikh Lion' and a defender for all minorities, Tanmanjeet has been listed in the Evening Standard's "The Progress 1000: London's most influential people 2019", under activists, for faith activism.
During this interview, he touches on a broad range of faith equalities and issues relating to religious discrimination.
[UPDATE] Since Tanmanjeet's podcast interview on 24 January 2020, there have been some developments. On 31 January, the United Kingdom's membership of the European Union ended 47 years after it joined, under the terms of Boris Johnson's Brexit withdrawal agreement. Tanmanjeet supported Lisa Nandy in the 2020 Labour Party leadership election. In early April 2020, the result of the membership ballot was announced, with the winning candidate, Keir Starmer, declared the new Leader of the Labour Party, and Leader of the Opposition.
As Parliament has formed after the 2019 General Election, MPs are joining the new Select Committees. After previously being a member of the Housing, Communities and Local Government Select Committee, Tanmanjeet has been elected onto the Defence Select Committee. He is the first Black or Asian Minority MP to do so in its history.
On 21 April 2020, Tanmanjeet was awarded Overall Newcomer MP of the Year, hosted by the Patchwork Foundation, acknowledging his work in Parliament and beyond, particularly around hate crime and community cohesion.
This is how to keep in touch with Tanmanjeet and his campaigning; he's active on the following platforms:
Twitter: @TanDhesi
Facebook: @tandhesi
Instagram:  @tan_dhesi_mp
E-mail: tan.dhesi.mp@parliament.uk
---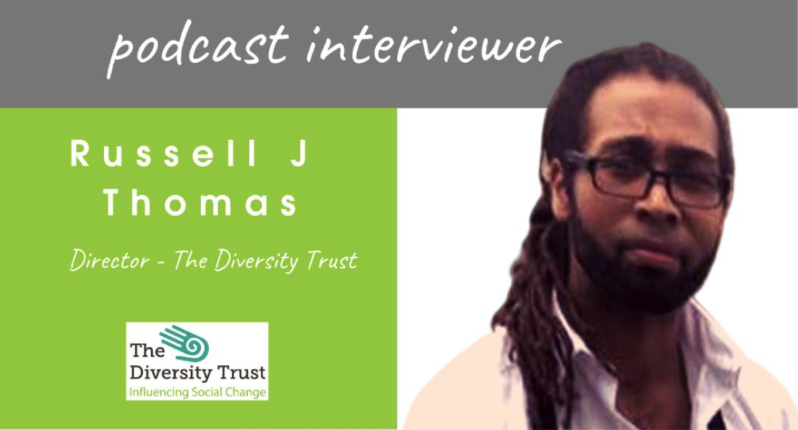 Russell

J

Thomas – Director, The Diversity Trust
Russell J Thomas is an inclusion, wellbeing and safeguarding expert. He has led on equality, diversity and inclusion since 1996. He is a sociologist and cultural linguist as well as receiving diplomas and awards relating to community engagement. Russell is the Manager for Equality, Diversity, Inclusion and Wellbeing at the University of Exeter.
Russell has extensive knowledge and experience as a result of working within a variety of sectors. This includes: Local Authorities, Higher and Further Education, Public Health and the NHS as well as Private, Social Enterprise and Voluntary Sectors helping them to become inclusive and meet their civic and corporate social responsibilities.

Russell was previously the Equality and Diversity Manager for the University of the West of England (UWE). For over 10 years he was the chair of the Bath and North East Somerset Racial Equality Council and the chair of the Black Families Education Support Group.

Russell has significant experience with supporting all equalities communities. This includes a focus on: supporting and advocating for disabled people, producing policies and procedure to improve services, produced accessible resources and presentations and has provided workshops on meeting the 'Accessible Information Standards'.

Specialisms include: Equality, Diversity and Inclusion | Cultural Competence | Race Equality | Unconscious Bias | Corporate Responsibility | Organisational Development | Workforce and People Development | Training | Facilitation | Leadership | Quality Assurance | Safeguarding and Child Protection | Stakeholder Engagement | Communications.

He published an 'Equality and Diversity Toolkit' in order to improve practice. This toolkit included good practice guidance, multi-media resources and an 'Equalities Standards' for Substance Misuse/Treatment Services. Following this Russell recently published a pioneering model to support services to become culturally competent.