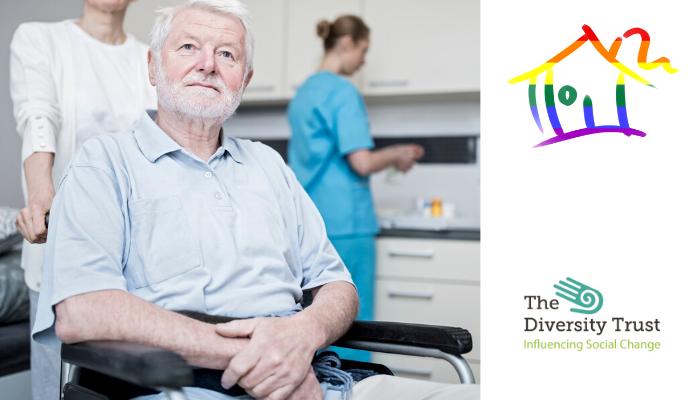 Recent research studies indicate that care home staff in England and Wales receive little or no training on working with residents from gender and sexual orientation diverse groups, despite increasing numbers of older LGBT+ adults needing care.
In 2018 Dr Paul Willis won ESRC IAA funding for an online learning resource for care and nursing home staff and managers in England and Wales, to inform and improve care home practice with older residents identifying as LGBT+ and in turn foster more socially inclusive living environments for all residents.
Willis worked with our founder, Berkeley Wilde, and the Therapeutic Media Company on the project. An expert advisory group was established including representatives from Stonewall Cymru, Skills for Care, Curo Housing, LGBT Bristol, and Swansea University academics Dr Tracey Maegusuku-Hewett and Dr Michele Raithby.
"The project set out to create two short films capturing LGB and trans older adults' perspectives, but produced a much more comprehensive, and comprehensively adopted, resource." Funder, The University of Bristol
The successful collaboration has resulted in four specialised films, five case studies, guidance on LGBT+ inclusion in care homes, tips for staff and managers, and a legal timeline for training purposes, forming the on-line learning resource, Care under the Rainbow. The Diversity Trust is committed to ensuring the research is incorporated into training activities, and consultancy. To ensure sustainability, we have committed to maintaining the resource for five years, including revising and updating content.
The project generated an enthusiastic response:
• from local care homes attracting 10+ contributors, including frontline care staff, and training providers such as Brunel Care and AbleCare Homes;
• with over 100 representatives from various care homes in SE Wales and SW England attending the launch and being introduced to the resources (including Anchor Housing and HC-One in England and Pobl Group and Hafod Care in Wales, as well as the Social Care Institute for Excellence, Housing LIN, Social Care Wales and Research in Practice for Adults), it also generated wider UK interest.
The project's reach was further extended, the practical value of the materials actively endorsed, by:
• the Bristol team working with new collaborators Opening Doors London, who subsequently incorporated the IAA-funded work into their own learning resource Pride in Care;
• Wilde and Willis presenting at a national meeting on LGBT+ and older care at the University of York Law School; and
• Wilde and Dr Wenjing Zhang giving an invited presentation on the project at Fudan University in Shanghai, China, followed by a Research Seminar on LGBT+ ageing, equality and social inclusion in collaboration with Age UK Bristol and Brunel Care.