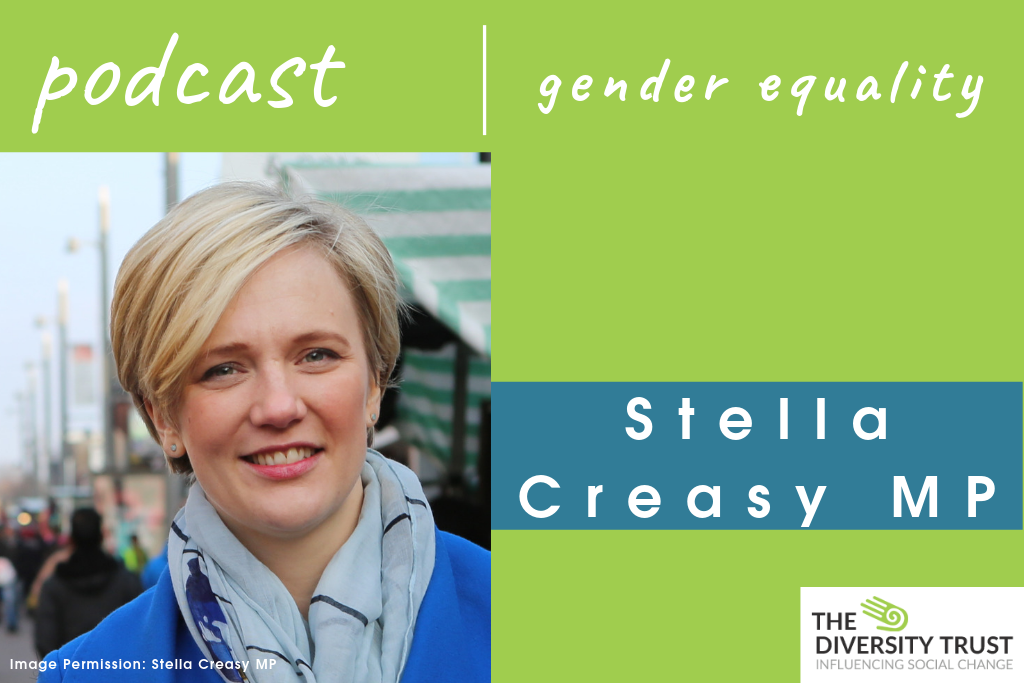 Listen to the full podcast interview here…
Listen to a snippet here…
"I think what the challenge is, is that all-women shortlists – and, indeed, BAME shortlists – are not in themselves enough. It's not enough to say, 'We should get more diversity in the room'. It's then, what happens when you're in the room? And I think again, one of the challenges that we have to tackle in 2019 is that still too often people think that the fight for equality is to be led by those people who are outside the room, rather than a recognition of the benefits to everybody in the room of having a more diverse group of people. That it's not about women replacing men. It's about what happens when you get a wider range of voices and a more interesting conversation that comes from different experiences, being able to learn from each other and that equality benefits everyone."
Listen to a snippet here…
"We have to take a long, hard look at ourselves as a country that we're being challenged by the far right. We're seeing the rise of a very divisive, hateful politics. And, I have to say to your listeners that, there is no cavalry coming. We have to be the ones who stand up and fight for a more hopeful, inclusive, equal society. And we have to make sure that when we do that, that every voice is heard. And I am particularly conscious as a white woman in a position with a platform, that it's not my job to speak for people. It's my job to create a platform from which their voices can be heard."
Listen to a snippet here…
"My advice is never to be a bystander, always to be a changemaker, because everybody and anyone can make a contribution to changing the world for better. You know, it's not about a special set of skills, it's not about going to a certain type of school or being able to speak in public. It's about the passion and the courage that you show for the causes that you care about. It breaks my heart to see people feel that they don't want to stick their head above the parapet, or campaign or fight for things they care about because of the nature of our politics.
I'm determined to change that because I know the world in which I live in and the world in which my children will grow up in will be better when their voices are heard.
So, I guess my biggest piece of advice to every young campaigner is to live as a change maker, because that's what they can be. Don't let anybody tell them otherwise."
---
Stella Creasy
Stella Creasy, Walthamstow's MP and a member of the Labour Party, has been referred to in The Independent newspaper, as a person who 'swipes stalwart right-wing themes of personal responsibility and prudence, and yokes them to inescapably progressive outcomes'. In many ways she is a breath of fresh air, actively campaigning on gender equalities issues that people care about and being able to connect with a broad swathe of the population, way beyond her constituency's boundaries. Stella describes how she started out as a youth worker in the Scout Association. She then moved into politics, first as a local councillor and was then elected to serve Walthamstow as an MP in 2010 via an all-female shortlist. Click here to visit Stella's Wikipedia page.
During this interview, Stella touches on a broad range of gender equalities and issues relating to women. Hear her talk about why diversity needs to move beyond the rhetoric into action for there to be real change (and to start to tap into all the potential talent). Currently, Stella's campaigning themes include amongst others the gender pay gap, abortion rights for women in Northern Ireland, her efforts to make misogyny a hate crime, the need for migrant women to have rights in the UK and her work on the domestic abuse bill.
[UPDATE] Since Stella's podcast interview, there have been some positive developments in Northern Ireland as a direct result of Stella and fellow Labour MP, Conor McGinn. They tabled amendments to a bill to change the law on same-sex marriage and abortion so it's more in line with the rest of the UK. These have now been approved by Parliament in one of its final acts during the last days of Theresa May's premiership. If by 21 October 2019, a government has not been restored in Northern Ireland, same-sex marriage will become legal and the rules restricting abortion will have to change. However, there will be a delay before the changes come into effect (same-sex marriage – January 2020; abortion – March 2020). FFI: https://www.bbc.com/news/uk-northern-ireland-49009056
This is how to keep in touch with Stella and her campaigning; she's very active on both platforms:
Twitter: @stellacreasy
Instagram: @stellacreasy
---

Lou Hart – Director, The Diversity Trust
Lou is a long term activist – both professionally and personally – of the LGBT+ community. After University she was a member of Coventry's Gay Liberation Front. With a creative background, she was an original member of Coventry Lesbian Theatre Group and also played in a number of lesbian bands. Lou's career focus has been largely on issues such as women's rights, LGBT+ awareness and then increasingly on advocating for 'Queer' as an identity from the late 1990s onwards.
Lou was one of the first professionals to shape homophobic hate crime reporting in London via various community safety roles in the eighties and nineties. As one-time Director of Camden LGBT+ Forum, she led and progressed a number of ground breaking initiatives including; incorporating anti-gay and anti-trans bullying lessons in every Camden secondary school; establishing the largest LGBT+ history month programme in Europe; and a street sanctuary scheme based on a multi stakeholder partnership to offer safe premises in Camden for LGBT+ people in areas where they had been intimidated or abused on the street. Lou was also a member of the original Rape Crisis Centre group in Coventry and has written guides and trained local authority workers, British Council attendees, police and health workers in the profiles and consequences of domestic and gender based violence.