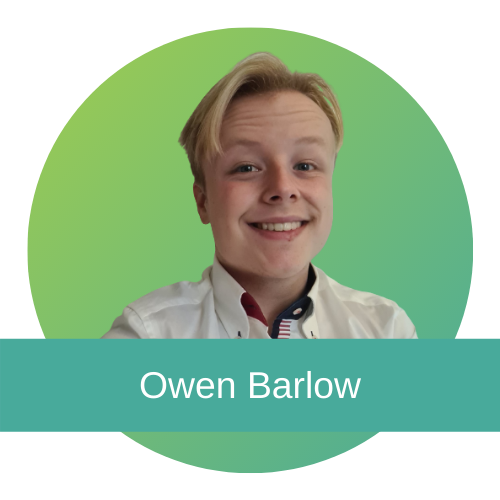 (he/him)
For the Diversity Trust, Owen delivers targeted youth work interventions for LGBTQ+ young people through various projects, including the Alphabets Youth Café.
Owen works in partnership with the Diversity Trust and Creative Youth Network as a trainee wellbeing practitioner, targeting LGBTQ+ young people. Through wellbeing groups, he's able to promote safe spaces for LGBTQ+ young people, places where they can share their lived experience with others and benefit from micro interventions such as low intensity cognitive behavioural therapy (CBT) and mindfulness meditation.
His own journey in the impact space began when he was a leading senior mentor for the National Citizens Service in Greater Manchester. Later, at university, he worked with the wellbeing and widening participation service, exploring how wellbeing practice could be embedded in the curriculum through teaching and learning. During lockdown, Owen worked with Bristol Mind supporting students remotely with their wellbeing.
Owen is passionate about supporting young people who are affected by substance misuse, particularly marginalised groups such as the LGBTQ+ community. At Honiton Hospital Sexual Health Services, he focused on their chem sex therapy model, whilst helping vulnerable LGBTQ adults and young adults.
Eager to support others, he's volunteered with Brigstowe, a charity facilitating inclusion and empowering people with disabilities across Bristol. Owen believes in the power of campaigning, for example, how we educate and co-ordinate disabled people to talk about their rights collectively in a safe space. He built on this theme when working with the West of England Centre for Inclusive Living on their listening partnership. This brought young people with disabilities together to develop their own campaigns, such as accessible transport and addressing bullying at school.
Owen loves working at the grassroots level, particularly helping those in deprived communities and at the intersection between LGBTQ+ and disabilities. The most rewarding aspect for him is being able to create safe spaces and introduce opportunities to which people may not otherwise have access. A recurring theme is arts and culture, which Owen leverages in his work to offer LGBTQ+ people outlets to express themselves and open conversations. Having been involved with a queer film festival, Owen is determined to continue promoting engagement arts and culture-related events.
Owen's areas of expertise include: wellbeing (including CBT), targeted youth work (LGBTQ+ young people and at the intersection of LGBTQ+ young people & disabilities), equalities research, campaigning & activism, creating engaging events and safe spaces for queer people through arts and culture.